I'm biting off more than I can chew here, dabbling in a little bit of a game review, so I'll pre-warn you that my extent of being a professional gamer consists of an addiction to watching gamers play games. Yup, I'm a couch gamer. Kinda like a backseat driver. Just they can't always hear me swear at them.
And while I'm flanked by two mighty gamers on GudShiz, who can actually run forward with a controller and not have to stop to find the buttons to shoot like I do, I still actually love to play games myself. Although, I'll admit, the ones I prefer mostly fall into the mindless gaming category with no skills needed. Those I rock at!
Yes, I've crushed sweets, I've run hotels, sown seeds on farms, delivered post, had a fish tank, designed a garden and let's not forget, the mother of all mindless preoccupations, built a house and had little people living in it. (Okay, that one I'll admit might be my favourite!)
But my latest is something a little different. It's on my phone and always there when I need to pass the time, or think about nothing much else. Covet Fashion.
I had a dream of being a fashion designer, right from my tweens, but it was never something I went into, mainly because I can't sew a stitch without attaching a digit from my hand to the garment. But I loved drawing and designing outfits so this one is right up my alley! Or should I be saying, runway.
"Real life money can be thrown into the game to buy more diamonds which helps you get further faster, but for me, the best is that's not needed to be able to still enjoy the game. Things have sure come a long way since I had press out paper dolls with limited paper clothing!"
The best thing about this game is you're able to really play according to your own personal interest and time. There are chat rooms in your fashion house that you're able to join, there are special themes with prizes to be won, so it's up to you if you want to take part in all that's on offer or just simply style the model.
The Game
You start by choosing a little mission of sorts, called style challenges. You're given a rundown of a theme and a virtual model you need to dress accordingly in layers. Whether it's a Queen facing a cold winter up north, or an office intern going into her first big meeting, you have to make sure you choose an outfit for her that suits her best. This is your chance to be a true fashionista! This can also be especially useful to learn what works best without having to make the fashion faux-pas yourself! Score high enough in each style challenge you do and you'll also win a new item of clothing or accessory for your wardrobe, so that helps a lot too.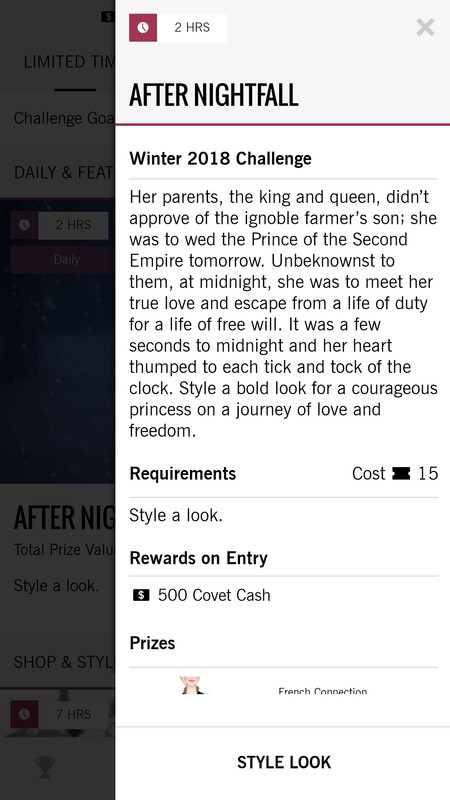 Genuine Brands Keep You Hooked!
Clothes cost money (damn, don't we know it!) and diamonds, so saving is essential (ugh, just like real life) and with each task, you will receive a cash bonus and tickets and diamonds. You'll also receive more every 24 hours. Tickets are needed to be able to enter another challenge. These run out fast sadly (well, if you an addict like me), but can be earned by voting for other entrants. But what's really awesome is all the clothes and accessories are real. They're by real high-end fashion houses and well-known designers and are even categorised by seasons, so there's no excuse for being caught wearing last year's designs!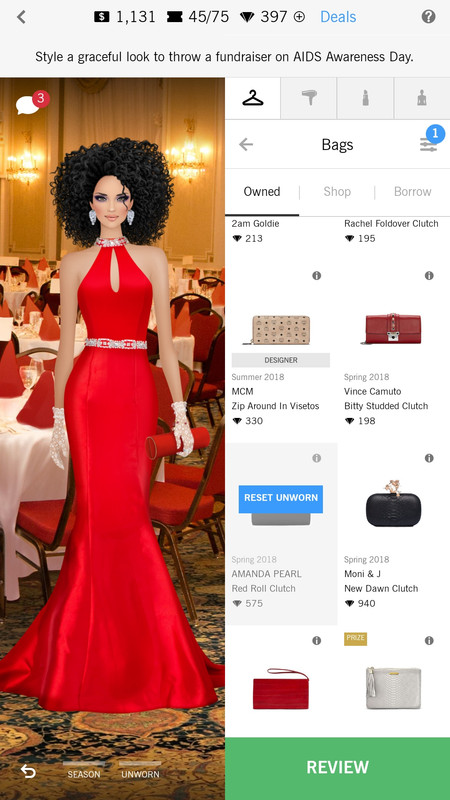 Is it Pay To Win?
It's been around for 5+ years now and seems to have an impressive following, over 600 000 users a day apparently! Easy to download (and it's free!) and even easier to use, it's probably one of the best fashion apps/games I've yet to try. Real life money can be thrown into the game to buy more diamonds which helps you get further faster, but for me, the best is that's not needed to be able to still enjoy the game. Things have sure come a long way since I had press out paper dolls with limited paper clothing!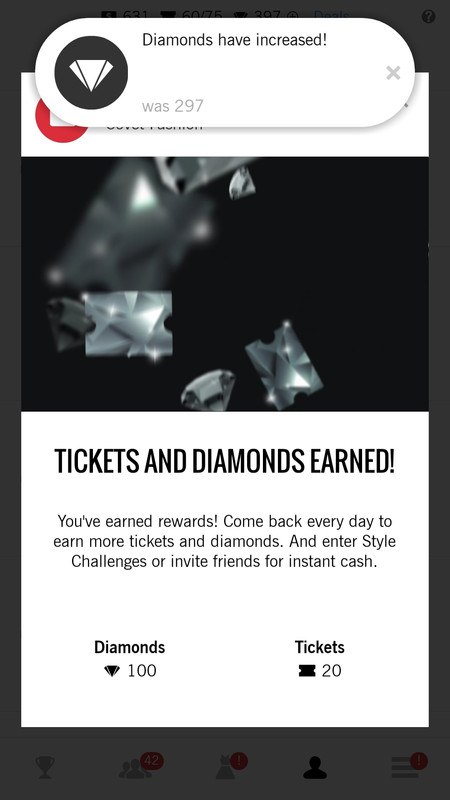 You get to choose hairstyles and makeup too, even skin tone. And while the game has done well to really encompass all looks and styles, using every possible situation in challenges too, even a bald option to promote cancer awareness, I have to stop and ask, where are all the curvy girls? Every single model that appears on the side to use in each challenge is beautiful with a Barbie doll figure. Yes, thankfully they're not runway skinny, and what girl has never wanted to look like Barbie, but the reality is, we're not all like that. Real girls have curves too. Real girls want to wear designer clothes as well. Some of us actually never want to be a size zero. Teach our girls right from young, give them a good body image I say. Curvy girls are beautiful too!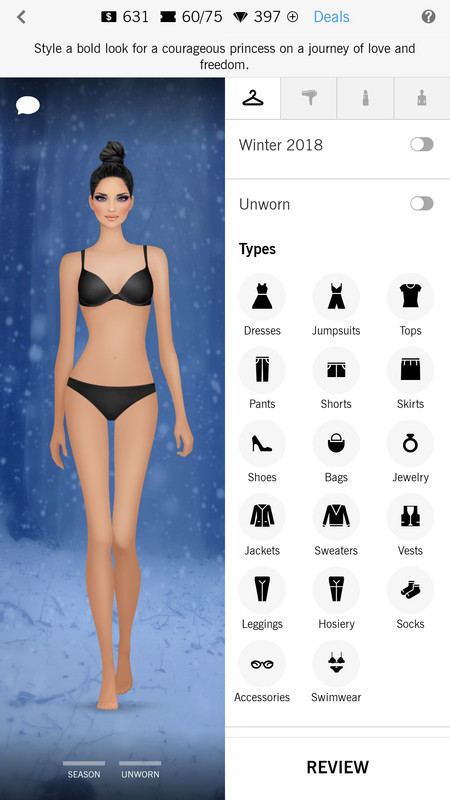 There has been talk of an update that will include a few more models with more curves, but that I saw almost 2 years ago, but unless it's a whole new app to download, I have not seen it materialise on my own yet. So we wait with bated breath for beautiful curvy women!
The Final Word
I've tried a few different games and apps to find the one that gives me what I enjoy most about fashion and styling and most fall short very quickly.  They either don't have much of a range to choose from or land up costing too much money to get anywhere.  The worst for me are the games that limit your playing time by only allowing you to do things every 24 hours etc.  So Covert Fashion definitely bypasses all those disappointments and allows me to waste as much time as I like playing.
All I need now is to find the update to add a few beautiful, sexy curvy models 'cos curves FTW!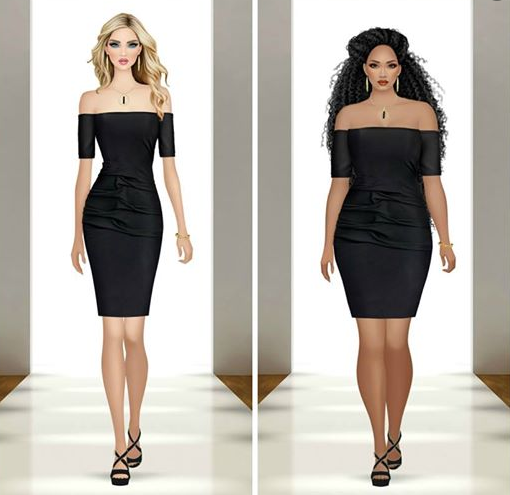 Want to get in touch and talk shop? You can get in touch via email with [email protected]!
Dassie brings her own take on the entertainment world be it her fangirling over The Originals or Vikings or complaining about waiting for the next season of Vikings, or about The Originals ending. Did I mention she likes The Originals? And Vikings? She's also a fan of drama series like The Last Ship, Shameless and classics like The Office and Seinfeld. To say she has a diverse taste would be an understatement making her a perfect fit for GudShiz.